Green & Upcycling Programs for Schools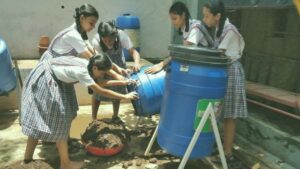 21st Century Skillsets for Earthy Engineers
21st Century skills are abilities that today's students need to succeed in this Information age. We believe that the children of today can help shape a greener tomorrow.
To carry out this task, we have our 'Earthy Engineers Green Module Program' , that are seamlessly integrated into the syllabus to connect the student to nature. These modules have the right mix of book information and practical application, which makes learning fun. The Green Module syllabus is aligned with UNESCO and NCERT goals. Broad topics of the program are as follows – My earth is beautiful (Senior KG to grade 2), my earth is thriving (grade 3 to grade 5), solutions to save my earth (grade 6 to grade 8). 
These programs run once per week for the year. The Green Modules can also include planned treks and camps, specially designed for schools and students, where children are engaged in activities that are fun and informative. Our, one day workshops cover the basics of urban farming, up-cycling and its benefits. The intention of our programs is to pass on information to students in a fun and engaging way. When learning is fun, our students want more! Schools across boards, students and home schoolers, have engaged with us for online and school-based programs. Shaping young minds, engaging them in urban farming, including various nature based and up-cycling activities, is truly rewarding!